We leaned the bikes on the side of small building. Mirko was waiting outside with the bikes while I went to stamp the passports.
The man sitting in the air-conditioning room stamped our passports and told me that our visa is 4 days shorter. We were not so happy about that. He also gave me 2 copies of customs paper for each, where we had to declare how much money we are carrying with us.
Than we had to go to another small office where they would stamp it. While the officer behind the counter was stamping the declaration papers the other one was asking me what I had on my head. I told him it's my hair but he didn't believe me, so I had to show him, that the hair was growing from my head.
They were all impressed asking me how long we have cycled from Slovenia till here and where we were going next?
We had the stamp in our passports, the stamp on declaration papers, now they only had to check all our bags and we could enter Uzbekistan, which was just behind the fence. There were still few cars in front of us, and it was getting hot. So it looked we would have to wait there for a while.
Than the officer who was earlier inspecting my hair in the office approached and asked us what we have in our bags and then without checking them, he waved us by.
It was the strangest border I had ever crossed.
When we crossed the border people selling water and changing money approached us. We bought some water and exchange Kazakhstan tenge for Uzbek sum while ladies were inspecting Mirko's hair.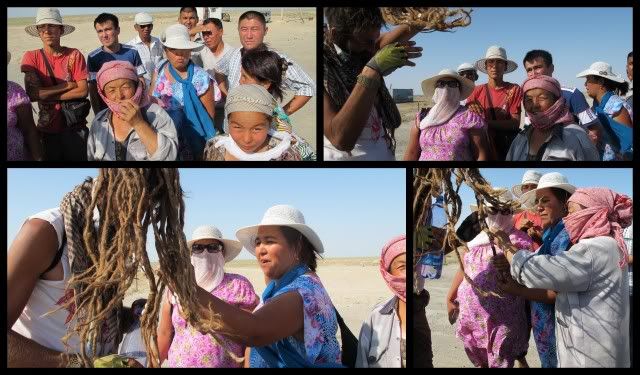 They didn't believe it is our real hair. They thought somebody gave it to us and now we were putting it on every morning.
They also told us that next chailkhana is 3km down the road. We said goodbyes and left, making our first km in Uzbekistan.